Clinton Visit
From our Newspapers
---

---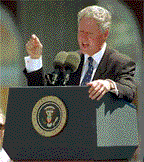 President Bill Clinton
visited Harrison County on May 22 and held a national town meeting on education

May 21, 1997
The following articles are from our special Presidential Issue
- The Clinton Town Meeting -




Lawmakers applaud Clinton's visit


By GAIL MARSH

State legislators are in agreement _ President Clinton's impending visit is good for the area and good for the state.

"I'm really excited and impressed that we were chosen to be the site of his visit," said Del. Larry Linch, D-Harrison. "This shows that the Legislature and Governor (Gaston) Caperton's work has been in the right direction."

Linch said that in the past eight years the state has turned around from being scoffed at to becoming the model of education for many states. "I am proud that the president is coming here to see what progress we have made in the area and in the state of West Virginia," Linch said.

Del. Sam Cann, D-Harrison was also enthusiastic.

"I think it's fantastic. We've done a lot of things right in the last few years.

"Ten or 12 years ago when Anchor Hocking and other businesses were closing, things looked very bleak. But many people pulled together and helped us to head in the right direction," he said.

Cann believes this is the perfect opportunity for the area to show the country what hard work has accomplished for those who live in Harrison County and West Virginia.

"A combination of city, county and state officials working together, along with industry support, has helped us to move in the right direction.

"We are by no means perfect, but I remember the mid-1980s when everything was closing down and we lost many jobs. We are in a much better position now to face the future," he said.

Cann is amazed that some people still view our state as backwards, even though the FBI and many other modern facilities have been built here. "This is a real opportunity to show the nation what is really going on."

Del. Barbara "Bobbie" Warner, D-Harrison, said the presidential visit means a lot to the area.

"This is very good for north central West Virginia and everyone I've talked to is looking forward to the visit," she said.

"With the FBI and the high-technology corridor, it should bring some positive notoriety to the area. People from around the nation should sit up and take notice, and maybe they will quit asking us if we are from Richmond or Roanoke or some other part of Virginia."

Del. Ron Fragale, D-Harrison, is pleased that the president chose this area to announce his educational platform.

"It's hard to believe that they picked this little town in the eastern part of the United States, but I believe our school system has something to do with it," the South Harrison teacher said.

"Plans are just coming together for this and I look forward to hearing him. He's an excellent speaker, very dynamic," the delegate said.

Fragale said that some of the things Clinton has not done are as important as the things he has.

"He's not done away with different programs that are keeping our schools strong. He has a strong commitment to education and he's also a supporter of technology and the new trends in education," Fragale said.

Senator William F. Sharpe, D-Lewis, said it has been his privilege to meet with Clinton several times over the years, both as governor of Arkansas and as president.

"I've worked with him on several occasions and he's always thought very well of West Virginia. I think he's the pick of the bunch as far as governors who have represented the nation, and I'm just thrilled that he's coming to visit us," the senator said.

Sharpe said he would like to see former Gov. Gaston Caperton attend the forum, as "he has done more for education than anyone in the state."

Senator Rebecca White, D-Harrison, is pleased that the president will be talking about education.

"Since there has been so much concern about the new federal and state policies in education, I think it is a very positive thing that the president is coming here to discuss the future of education," she said.

"People from around the nation will be able to see that our school system can compete with any in the nation."


---
Telecommunications Act opening doors of
opportunity for millions of students


By JEFF TOQUINTO

Just two short years ago, United States Senator Jay Rockefeller (D-W.Va) looked wondrously at the Information Superhighway.

It was, to the Senator, a roadway of opportunity which children nationwide could travel to further their knowledge. In order to insure that there would be no roadblocks on this avenue, Rockefeller teamed with Senator Olympia Snowe (R-ME) to guarantee that all obstacles would be eliminated.

Thanks to their efforts, an amendment to the Telecommunications Act will now provide every school and public library nationally with Internet access, internal classroom connections and discounts to cover the monthly telecommunications costs of staying on-line.

"This ensures that all kids _ no matter where they live or how much their parents earn _ will have access to education technology," Rockefeller said. "Students who attend small schools in remote areas will be able to connect by computer to the best libraries in the world or take advanced math and science courses offered in larger schools."

Access to the Internet and technology in the classroom will be one of the features of President Clinton's town hall visit to Clarksburg's Robert C. Byrd High School on Thursday. In the same vein as Rockefeller, Clinton puts a high priority on advancing educational standards.

But the politicians know improving on the educational front is as difficult and expensive as it is important.

For starters, the Rockefeller-Snow amendment won't be cheap to put into place. And it won't happen overnight.

A recent Federal Communications Commission ruling on the Act of 1996, will provide $2.25 billion to do the connections for schools and libraries. The money should prove to be sufficient to connect all schools, K-through-12, within the next four years.

In order to reach Clinton's goals of improved education, the money may be a small price to pay.

"In his State of the Union Address earlier this year, the president laid out an ambitious agenda to ensure that the American education system is the best in the world," Rockefeller said. "A key part of that blueprint is to set tough, rigorous national standards _ with national tests in both 4th-grade reading and 8th-grade math, to make sure that children can read and know basic math and algebra.

"These are basic skills," he continued, "that will help ensure that our young people gain the skills they need to compete in the global economy."

As basic as reading, writing and arithmetic are, computer skills are already on the long-standing list of classroom requirements. In fact, Rockefeller estimates that six out of every 10 new jobs will require computer skills by the year 2000.

"Access to information on the Internet is as important today as rural electricity and basic phone service have been in the past," said Rockefeller. "And like these earlier technological advances, recent computer breakthroughs will help our country erase the gap between the haves and the have-nots."

As far as the distance between West Virginia and other states in education technology, the gap has narrowed. Thanks to former Gov. Gaston Caperton's Basic Skills Computer Program, there is a computer in every West Virginia elementary school classroom.

In total, there are more than 19,500 computer workstations in kindergarten and elementary classrooms in the Mountain State.

Along with the computers, there are plenty of other areas where West Virginia is considered a frontrunner. The state has training available, Internet access linking all West Virginia schools, a Jobs Through Education Program and downlink and network sites.

Those are just a handful of the reasons which led Rockefeller to ask Clinton to visit the Mountain State.

"I have been urging President Clinton to return to West Virginia since his visit to Huntington in August," said Rockefeller. "I am proud he chose our state as a place to focus attention on his education agenda. This will be an excellent opportunity for West Virginia to showcase to the rest of the country a school system that is rapidly becoming a national model in the use of technology and improving standards."

It's Rockefeller's hope with the amendment to the Telecommunications Act, the president's education plan and the emphasis other lawmakers have put on education, that the nation will once again rank at the top of the world's educational mountain. Already, Congress has put its money where its mouth is.

"The bipartisan balanced budget agreement just negotiated includes the largest increase in education funding in 30 years," the senator said. "We need to keep America's education at the top of our list of priorities. The president's plan does exactly that."


---
Remembering Clinton in Chicago


By LIBBY STOUT

The last time many West Virginians had a chance to see President Bill Clinton in person was when he addressed convention delegates and made his acceptance speech at the Democratic National Convention in Chicago last August.

There was absolute pandemonium in the huge United Center when he and and First Lady Hillary Clinton took center stage in the home of the NBA champion Chicago Bulls and the NHL Blackhawks. The place was packed to the rafters _ and then some.

It was the first time in 28 years and the 25th time since 1860 the "Windy City" had played host to such a gathering.

Before their arrival in Chicago, the Clintons had traveled by train from Washington to Huntington to make a whistlestop appearance before thousands of well-wishers.

Some said it was the largest gathering of its kind in the Mountain State's history.

It is anticipated that President Clinton's visit to Clarksburg's Robert C. Byrd High School Thursday will create the same air of excitement. His mission will be to promote his education agenda.

Built in 1994 on the west side of Chicago, the state-of-the-art United Center covers 960,000 feet of space. But because of the specially built podium, seating space for the convention was somewhat less.

To emphasize the vast area of the United Center: It has 216 suites (skyboxes), 1,850 internal and external doors, 50 restrooms, 46 concession stands and, at the time of the convention, more than 500 television sets in place.

Delegates, and delegates only, were seated in folding chairs and fixed seats on the floor below the lower level suites. Alternates and other guests were seated in the upper levels.

The United Center also boasts a state-of-the-art MATV system with more than 500 monitors throughout the building. More were added for the convention, allowing events to be viewed from just about anywhere in the center.

The West Virginia delegation, headed by state Democratic Party Chairman Pat Maroney, was housed at the Clarion Executive Hotel on Whacker Drive. Also sharing the Clarion were delegations from Hawaii, Utah and Washington.

Since the United Center is about two miles from most hotels (Chicago has about 26,000 hotels), shuttle buses were used to pick up participants at the O'Hare and Midway airports and to transfer people to and from the convention site.

The Chicago '96 Committee and the Democratic National Committee deployed a staff of more than 7,000 volunteers to assist convention participants.

According to convention officials, the influx of 35,000 visitors pumped more than $122 million into Chicago's economy.


---
Clinton tickets go out again today
Over 600 residents
collect on Tuesday


By BILL BYRD

Free tickets for President Clinton's Benedum Airport speech Thursday will be handed out again today after more than 600 area residents showed up for yesterday evening's distribution.

The tickets will be available at the same locations: the new Bridgeport Middle School, 413 Johnson Ave., and the Heritage Square BookCafe in the Heritage Bank building, 140 W. Main St., Clarksburg.

The distribution will run from 11 a.m. - 1 p.m.

A White House advance team member estimated about 2,500 tickets were given away during yesterday's two-hour handout _about 1,000 in Bridgeport and 1,500 in Clarksburg.

Most people at the bookstore site in Clarksburg asked for the maximum number available per person - four tickets.

Shortly before the 5 p.m. start of the distribution, as many as 150 people were waiting in line.

The crowd - which stood in line good-naturedly - stretched from the bookstore's entrance on the bank's ground floor back across the bank's parking lot.

One unidentified woman showed up at 10:30 a.m., Bank President Thomas J. Hansberry said. "She came in to the bookstore, got herself a book to read and waited all day. She wanted to be first in line," he said.

With five county school employees manning folding tables and handing out the tickets after checking each person's photo ID - driver's licenses were the ID most in evidence - the line moved quickly.

Alexander B. Cox, 79, and his wife, Theresa, 75, were last in line at 4:55 p.m.

Forty minutes later, the retired Monticello Avenue couple had tickets for themselves and Quinn Law, their 5-year-old grandson who lives in Morgantown.

"Quinn wrote President Clinton last year just to tell him he liked him," said Mrs. Cox, who was a children's librarian at the Clarksburg-Harrison Public Library before she retired.

The White House replied to her grandson's missive, sending him a photograph of the president and a brief message.

"That's why we're in line," she said. "When Quinn heard he was coming to Clarksburg, he asked grandma to take him to see the president."

Connie Hoffman of Clarksburg brought her wheelchair-bound 15-year-old daughter Gretchen to collect their tickets. But one of the organizers brought tickets out to the Hoffmans so they wouldn't have to wait in the sun.

More than one mother had a child in a stroller and the Pirella boys of Fairmont - Matthew, 5, and his older brother, Pat, 11, -played a careful game of catch while waiting with their father Mark.

Matthew wasn't sure who was president but he nodded a vigorous yes when asked whether he was going to see him in person.

Cars filled the bank building's parking lot from West Main to West Pike streets before the distribution began. But it, too, quickly emptied as the line shrank and finally disappeared by 5:47 p.m.

Thereafter, people came in singly or in small groups.

One of the two Clarksburg police officers directing traffic said he was able to obtain about 20 tickets for his fellow shift officers.

Hansberry said he was pleased with the turnout.

"It's great to see everybody excited and happy."


---
Town meetings allow Clinton to hear concerns


By TROY GRAHAM


President Clinton has become known throughout his presidency for his town hall meetings, a kind of modern answer to Franklin Roosevelt's "fireside chats," which soothed a nation of fears during the Depression.

While today's society may not be in the grips of a crisis as severe as the Depression, Clinton staffers say the town halls are still an excellent way for the President to talk with the people and hear their concerns and answer their questions first hand.

"He does them to communicate directly with the public and hear what's on their minds," said White House spokeswoman Julie Green.

"I think these are good, because first of all, it's easy for the President to become isolated, particularly in this security environment we live in today," Clinton told a town meeting in Billings, Montana, in 1995. "And I think people who have questions should be able to confront their elected officials face to face, personally."

Since 1993, when Clinton took office, he has held 18 town meetings, including one with Russian citizens in Moscow. The president has also held a radio town meeting, and meetings on "CBS This Morning" and ABC News' "Nightline." In addition, Clinton has participated in a town hall with one of his greatest Republican rivals, Speaker of the House Newt Gingrich.

The president has also held two children's town meetings, and several other specialized meetings devoted to subjects such as drugs and education. In 1993, he held a town hall on Goals 2000, the education initiative which will most likely be discussed at Thursday's meeting at Robert C. Byrd High School.

During the 1993 education meeting, Clinton outlined Goals 2000 for the audience. He said he hoped that "by 2000 ... we get a 90 percent on-time high school graduation rate; that children at the 4th, 8th and 12th grades are confident in the subjects they're supposed to know; that they are second to none in math and science; that our schools are safe, disciplined, and drug-free." His final goal, he said, was to establish "a system of lifelong learning in this country."

At another meeting in 1993, Clinton addressed standardized testing, which is also a possible subject for discussion Thursday.

"The standardized tests scores for students in countries like Japan, France and Canada exceed the ones in America," he said. "I want some national standardized exams that really mean something and aren't bogus and that are updated annually."

During a 1994 meeting, the president discussed school-to-work legislation, which the state Legislature passed last year.

"We're ... passing something called school-to-work legislation which will provide extra training opportunities for young people who don't want to go on to college but do need further training," he said. "Our evidence is that if you don't have at least two years of post-high school education or training when you get out of high school, you don't have a very good chance of getting a job with a growing income."

The president was even asked about his own experiences in school by a nine-year-old at a 1993 meeting.

"I made my lowest grades in conduct because I talked too much in school and the teachers were always telling me to stop talking," Clinton told the youngster.


---
City to be in positive light


By JEFF TOQUINTO

For the second time in less than a year, the City of Clarksburg will be in the national spotlight.

This time, however, the venue will be a positive one.

Thanks to the recent announcement of President Clinton's visit to Robert C. Byrd High School, Clarksburg will have a few hours to showcase its improving economy and its new, state-of-the-art high school. Clinton's visit and the publicity that will follow it, will provide Clarksburg with a rare opportunity for positive national exposure.

Fortunately, it comes eight months after the incident involving the Mountaineer Militia and an alleged plot to blow up the city's FBI facility. On that occasion, Clarksburg was in the headlines and, unfortunately, there were negative images that accompanied it.

"For the president to come inside your city's borders will be a memorable experience and one we believe will last a lifetime," said City Manager Percy Ashcraft. "If it takes his visit to wipe out all of the negative memories of the Oct. 11 incident, then I'm doubly grateful for the president's appearance."

Much like the militia case which brought in media from across West Virginia, surrounding states and those on a national scale, the president's visit will be accompanied by an entourage of reporters. Because of that, there will also be a large crowd of various federal, state, county and local officials on hand as well.

"There will be a lot of important political people who will be at the gathering," said Ashcraft. "There will be people at this that you normally won't see together in places other than Clarksburg."

One similarity between the President's visit and the incident involving the Mountaineer Militia, will be heightened security. This time, however, the United States Secret Service will be heading the call for security.

It's likely most other agencies _ particularly those on a local level _ will be doing things in a support role.

"We'll be doing whatever they ask of us from a security standpoint," said Ashcraft. "We want to cooperate in any way possible."

While Ashcraft is hoping the visit will be a solid remedy for the ailment of the Militia incident, he's not so sure totally forgetting about what transpired is the best thing.

"That incident brought people together," said Ashcraft. "I think people realized that a tragedy could happen here in Clarksburg or West Virginia. It taught a lot of us not to taking anything for granted."


---
President to speak at school named for Sen. Byrd


By JEFF TOQUINTO

When President Clinton speaks to more than 150 people at a town hall meeting on education in Clarksburg, he'll be doing it in a school that bears the name of West Virginia's long-time and storied Sen. Robert C. Byrd.

Clinton's selection of the school to hold a town hall meeting is reason to make the senior statesman smile.

"I have been deeply honored to have a school bear my name," said Byrd, "and I am delighted to have had that school selected as the location for a White House event intended to draw national attention to education issues."

Thursday's gathering at Robert C. Byrd High School will allow Clinton to lay out his 10-point Call to Action for Education, a plan to toughen education standards, modernize schools and connect every classroom to the Internet.

All of the topics are special for Byrd, who holds education issues in high regard.

"Education has made all the difference in my life," said Byrd. "It is for me, as I believe it should be for everyone, a lifelong pursuit. I hope by my example young people may be inspired to learn."

Byrd's example helped pave the way for one of the state's _ and the country's _ most modern high schools. Officials in Harrison County believed it was natural to name the school in honor of one of the state's top public servants.

The school, situated on 20 acres in Pitcairn Hollow, is a front-runner in educational technology and has a student-to-computer ratio well above the national average.

Byrd said he hopes the rest of the country will get to view advancements made in education in the Mountain State by way of the town hall meeting.

"I hope, as well, that through this town hall meeting, West Virginia will gain some well- deserved positive recognition nationally for the impressive strides made in recent years to improve our state's economy and its educational system," he said.


---
---



Clarksburg Publishing Company, P.O. Box 2000, Clarksburg, WV 26302 USA
Copyright © Clarksburg Publishing Company 1997