Clinton Visit
From our Newspapers
---

---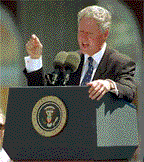 President Bill Clinton
visited Harrison County on May 22 and held a national town meeting on education

May 22, 1997
The following articles are from our special Presidential Issue
- The Clinton Town Meeting -




Philip's Restaurant
chosen caterer for
presidential aides


By PAM KENDALL

The requirements were simple: good-tasting regional cuisine.

And presidential staffers didn't have to go far to find it.

In Glen Elk, Philip's Restaurant was chosen to be the official caterer at Robert C. Byrd High School for the traveling presidential press corps and staff.

For Philip Podesta it's quite an honor to represent the Italian community.

Podesta will serve his homemade Italian entrees to 61" people today at a buffet-style luncheon for those traveling with the president. Also, thirty box lunches were ordered for the press corps to enjoy enroute to the school.

Presidential aides traveled to the Glen Elk restaurant for lunch on Tuesday where they sampled Podesta's famous Italian dishes.

Podesta will serve a variety of Italian cheeses, antipasta plates, fresh meat platters with proscuitto ham, suprasatta and capicola and Italian tomato salads.

Aides were looking to taste regional cuisine and, since Italian heritage is so abundant here, an Italian restaurant was chosen, sources indicate.

The entourage will be served tortellini alfredo with mushrooms and sundried tomatoes, vegetable manicotti with marinara sauce, lasagna with meat sauce, hot sausage, chicken, and Ricki D's famous pizza.

Dessert offerings will be anything from Italian pastries to scrumptious chocolate-covered strawberries.

Podesta started his off-premise catering in 1989 and since late 1991" has been the owner and operator of this fast-growing Glen Elk business.

Begun in a one-room facility, his business has grown to include a dining room, banquet hall and an Outdoor Garden.

In the past, he has catered for private parties, political events for Governor Caperton, Senator Alan Mollohan and Senator Robert C. Byrd, the High Technology Consortium, and corporate events, to name a few.

Podesta said that "without the support of the community it wouldn't have been possible for me to accept this prestigious honor to cater for the presidential staff."


---
Original poem by St. Mary's fifth graders
lists all presidents' names


With all the hubbub about President Clinton's Clarksburg visit, you probably won't have any trouble remembering the name of at least one U.S. president.

But students in Suzanne Shaffer's fifth-grade class at St. Mary's Grade School in Clarksburg had to learn the names of ALL the presidents. So they came up with an original poem listing all the names.

Here, in its entirety, is the poem, which won honors in the Harrison County social studies fair:

"First and foremost was good old GEORGE. He fought the battle of Valley Forge.

"JOHN ADAMS was number two. He made our army strong for me and you.

"JEFFERSON'S Declaration of Independence was outstanding. The Louisiana Purchase kept us expanding.

"MADISON, MADISON number four. We're fighting the Englishmen once more. ~

"MONROE says Europeans couldn't invade our territory. So the Monroe Doctrine became history.

"JOHN Q. ADAMS abolished the "gag rule." He started the steam railway, it was really cool.

"ANDREW JACKSON helped us go West. The Alamo was a tough test.

"MARTIN VAN BUREN took over in tough times. His rocky presidency led to his decline.

"HARRISON got sick on Inauguration Day. That left many in dismay.

"JOHN TYLER switched and became a "Whig." Then he annexed Texas. Now our country is getting big.

"With JAMES POLK we won the Mexican War. He added states and lowered taxes and more.

"ZACHARY TAYLOR just lasted a year. The California Gold rush was here.

"FILLMORE took over when Taylor died. Slavery was an issue he had to decide.

"Kansas and Nebraska came under PIERCE. The issue over slavery became very fierce.

"The 15th was BUCHANAN, JAMES. The Pony Express was right with all its aims.

"ABRAHAM LINCOLN was president during the Civil War. He freed the slaves so they wouldn't have to work anymore.

"ANDREW JOHNSON had big shoes to fill and he tried to keep Abe's working will.

"GRANT was a Union Army commander. Then he accepted Lee's surrender.

"The 19th president was RUTHERFORD B. HAYES. He had up and down times during his days.

"Four months into his term GARFIELD was shot. He died in September when it was hot.

"Under CHESTER ARTHUR we fully expanded West. Now running our country was really a test.

"GROVER CLEVELAND was president twice. His party turned against him and they weren't very nice.

"BENJAMIN HARRISON was number 23. He won the battle at Wounded Knee.

"MCKINLEY stood tough in the Spanish American War. Then he was assassinated, saddening us once more.

"Number 26 was the "TEDDY BEAR." He was most popular from here to there.

"TAFT lowered tariffs on imports coming to us. But he taxed our income and caused much disgust.

"WILSON established a commission for Federal Trade. And said that safe the world must be made.

"WARREN G. HARDING was 29. He gave the oil people the right to mine.

"SILENT CAL, number 30, he reduced the national debt. Farmers would not vote for him, even on a bet.

"HERBERT HOOVER was next in succession. Then we experienced the Great Depression.

"FDR was the president when we repealed the 18th Amendment.

33 was HARRY S. He left Japan a nuclear mess.

"IKE always persistent in the war. But it was always our country he was fighting for.

"O, President KENNEDY, your assassination brought heartache to our entire nation.

"Under LBJ came the first space walks, when asked for comments on Vietnam he would not talk.

"RICHARD NIXON had to deal with Watergate. his resignation became his fate.

"FORD stepped into the Middle East truce. The Vietnam War ended. Now, that's a big deuce.

"CARTER made homes for the homeless and poor. And then the nation did soar.

"REAGAN had a meeting in a communist nation. This led to better relations.

"Barbara and GEORGE BUSH saw 1,000 points of light. Mrs. Bush claimed illiteracy was our children's greatest plight.

"Who knows what the future will be? President CLINTON will lead us to the bridge of the 21st century.

"Now our task is done. Studying presidents is fun!"


---
Young Republicans sponsors a forum


By TROY GRAHAM

While President Clinton's visit to Clarksburg has excited the entire community, the Young Republicans want to remind area residents not everyone agrees with the president's policies.

The Young Republicans will be sponsoring an event at the Holiday Inn ballroom tonight as a forum for conservative views and a counter to the president's visit, said Harrison County Republican Chairman Brad Gain.

The keynote speaker at the public event will be media magnate John Raese, owner of several radio stations and the Dominion Post newspaper.

"Raese came up with the idea as soon as he heard the president was coming," Gain said.

According to Gain, Raese will offer the audience a rebuttal to Clinton's Goals 2000, the far-reaching educational initiative which will undoubtably be the focus of discussion at today's town hall meeting at Robert C. Byrd High School.

"It's not a rally or a protest," Gain said. "It just gives people a place to go and hear the other side."

Conservatives disagree with Goals 2000 because it "nationalizes education," by applying the same standards throughout the nation, Gain said.

"It takes textbook and ciriculum decisions away from parents and school boards," he said. "It's typical centralizing government liberalism."

Gain also disagrees with the recent passage by the state Legislature of the school to work law, which closely follows Clinton's plan.

"Teachers are supposed to determine at a very young age what they (children) are best at and direct them towards that job," he said. "When they get out of school they'll have no choice but to get into the profession they've been groomed for.

"I'm amazed people aren't outraged," Gain added. "It smacks of Big Brotherism."

The event will take place from 6:30 to 9 p.m. Republicans from around the state have been invited, Gain said.


---
Remembering presidential candidate John W. Davis
Speech drew crowd
between 64,000 and 74,000 in city


By LIBBY STOUT

Editor's note: There was presidential excitement of a different sort in Clarksburg in 1924. City native John W. Davis wasn't president, but he was the Democratic Party's nominee and he gave his acceptance speech in Goff Plaza.

Seventy-three years ago, on Aug. 11, 1924, just as the only man from West Virginia ever nominated for the presidency of the United States began his acceptance speech, it began to rain.

A crowd, estimated at 64,000 to 74,000 strong, had gathered in the Goff Plaza section of Clarksburg to hear native son John W. Davis, a Democrat, say he would seek the nation's highest political office.

The sky was overcast. Dark clouds hid the summer sun. Rain was almost a certainty.

But still the mass of people pushed, shoved and jostled, trying to get a decent vantage point.

There were those who said it was the largest crowd ever in Clarksburg.

Davis spoke from a stand built near the Robert Davis home at 613 E. Main St.

The candidate, a distinguished lawyer and jurist, was highly respected and represented a wide range of clients.

At the time of his nomination, Davis had argued more than 144" cases before the U.S. Supreme Court, perhaps more than anyone else at the time.

As the sky opened and a heavy rain began to fall, the crowd sought cover. But since at that time there were few houses in the area, there was little shelter.

Almost immediately, the area became a mass of umbrellas. Onlookers were undaunted by the drenching rain. They wanted to see and hear the man they hoped would be the next president of the United States.

Davis came into the presidential race following a record-breaking convention that lasted 11 days in Madison Square Garden.

The man from West Virginia had two formidable foes, Alfred E. Smith, governor of New York, and William McAdoo, son-in-law of Woodrow Wilson.

During the heated debate on the convention floor, the two factions became hopelessly deadlocked. (Back then, a two-thirds majority vote was required for the nomination.)

As a result of the deadlock, the party turned to Davis. He was nominated on the 14"3rd ballot.

And the rest of the story, as they say, is history. Davis lost the 1924 presidential race to Calvin "Silent Cal" Coolidge.




---
Harry S. Truman was
last sitting president to come here


By JEFF TOQUINTO

H. Laban White remembers quite well a visit by Harry S. Truman to Clarksburg. Of course, his story is one that's hard to forget.

The 81-year-old White had the honor of taking a train ride and a stroll years later with the late President, the last sitting President to visit Clarksburg. To this day, White can vividly recall both encounters.

When Truman made the first of his two whistle-stop appearances at the train station in Glen Elk, White was on board. In fact, White rode on the train from Grafton to Salem during a 1948 visit.

"My uncle (the late Arthur Cox) was a photographer and helped me get aboard," said White. "Truman never got off the train, but I'd get off at each stop to hear him speak. I had to because I was some distance from the president on the train."

White said Truman made several speeches on his journey through North Central West Virginia. He clearly remembers the stop in Glen Elk.

"There was such a big crowd at the station there," White, who has lived in Clarksburg since 1946, recalled. "He had bad eyes and couldn't read speeches that well so he struggled to talk at times. But, when he talked off the cuff he was dynamic."

Years later, White had another encounter with Truman. This time, it was up close and personal.

In fact, it's an experience he said he'll never forget.

"He came back to Clarksburg two more times after he was president," said White. "I had the good luck to be with him after that."

White said his good fortune enabled him to take a pleasant walk with a president well- known for his strolls.

"I was master of ceremonies at an event and that's how it ended up happening," said White. "We walked from the Stonewall Jackson Motel up to Minards and back as fast as we could go."

During the walk, White said there was just one secret serviceman accompanying him. He said Truman, much to his surprise, was well-versed in the history of Clarksburg.

"He said he knew about the history of Clarksburg and he really did," White said. "He pointed to Pinnickinnick and he talked about Lowndes Hill and the civil war gun places there. He knew more about Clarksburg than I did."

During his train visit, Truman told the crowd of his historical interest in the city. According to the biography Harry S. Truman, by Margaret Truman, he had kind words for the people of Clarksburg and its history.

"I've always had a warm spot in my heart for Clarksburg. I have been a student of the War between the states, and I remember that Stonewall Jackson was born here in Clarksburg," the book states.

Edgar C. Siegrest, who today works in law along with White, was also at the event. However, he wasn't on the train.

"I certainly remember my father (Ora E. Siegrest) and I going over," he said. "You had to stand as close to the car as you could in order to hear him.

"To be honest, he wasn't a great speaker," he continued. "But, he went over big with the crowd."

The 77-year-old said there were hundreds of people crowded in to see the president.

Local history buff and retired Harrison County Courthouse Engineer Fred G. Layman recalls the visit of Truman in 1948 and one in the 1965"s.

"I was about 19-years-old when he came to Glen Elk," said Layman. "I went with Fred Goff, he was Democratic County Chairman. Oh, Lord it was crowded. It was just like when the servicemen left for war in Glen Elk."

Layman said the next time he saw Truman was in the '65"s, this time after he was out of office.

"He stayed at the Stonewall Jackson one time," said Layman. "I watched from the Courthouse as he was taking a morning walk at 7:35"."

Truman's last visit to Clarksburg in capacity as President came at 3:15" p.m. on Sept. 2, 1952. The visit, the final for a sitting president here until today, came just before the 1952 election in which Adlai Stevenson was representing the Democratic party.

When he spoke that day from the rear platform of the train, he recalled his previous visit.

"When I was here in 1948, I was trying to get you to elect a Democratic President and a Democratic Congress," Truman said during his speech that day according to the Public Papers of the Presidents. "Well, I am back here on the same errand now, but I have another candidate for President this time. I hope you will vote for him."

Following his speech, Truman was back on the tracks. And at 4 p.m., he was speaking in Grafton.

Current Secretary of State Ken Hechler was on the train with Truman. In fact, he was the speech writer on the Truman Train.

"Truman was genuinely touched by the size and enthusiasm of the crowd," said Hechler. "He ad-libbed some nice comments which were not in the text."

Truman isn't the only President to visit the area. Many recall appearances of other statesmen, several who were seeking to field the office of leader of the free world.

An 11-year-old Samuel V. Veltri was in Glen Elk in 1941 when President Franklin D. Roosevelt visited on the re-election trail. Like Truman, FDR made a whistle-stop appearance.

"I remember getting out from school and heading up Ohio Avenue," said Veltri. "We got good seats because we went across the train yard from Ohio Avenue and were right there."

Veltri was with his friend, the late Eugene DeFrancis, at the time.

"It was packed like sardines," he exclaimed. "I'll never forget it."

While many individuals have had the opportunity to meet one or two people who has served as the leader of the free world, Wolf Summit's Milton Furner has met more than one president on more than one occasion.

As an employee of WBOY, Furner has talked to, photographed or encountered presidents John F. Kennedy, Lyndon Johnson, Harry Truman and Hubert Humphrey and a whole host of those running for the office. Although Furner remembers each encounter, he said he never got too excited.

From 1956 on up, the 78-year- old Furner encountered dozens of politicians. During that time, he was able to strike up plenty of lasting friendships.


---
---



Clarksburg Publishing Company, P.O. Box 2000, Clarksburg, WV 26302 USA
Copyright © Clarksburg Publishing Company 1997