Clinton Visit
From our Newspapers
---

---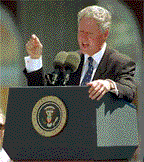 President Bill Clinton
visited Harrison County on May 22 and held a national town meeting on education

May 23, 1997
The following articles are from our special Presidential Issue
- The Clinton Town Meeting -




Attentive crowd
privy to president's
education stance


By JEFF TOQUINTO

With a smile on his face and a cane at his side, President Bill Clinton brought his national education campaign to Harrison County and Robert C. Byrd High School on Thursday.

Walking with grace in defiance of a bum knee, the president received a boisterous ovation. Clinton, sporting a gray suit, yellow tie and down-to-earth demeanor, was at-ease with the throng of people situated inside of the school's gymnasium.

Not long after Robert C. Byrd student Mary Helen Shields formally welcomed the president to West Virginia and her high school, the President welcomed the Mountain State into the fold of states sponsoring rigorous math and reading testing.

In his initial statements at the town hall meeting on education, Clinton announced that Governor Cecil Underwood had committed to national education standards and testing set up in his Goals 2000 plan. By the spring of 1999, all fourth graders will be tested in reading and all eighth-graders in math under the format.

"From West Virginia to Nevada, from Washington State to Florida, from Maine to Arizona, math is the same. The need for basic reading skills is the same," Clinton said.

Along with West Virginia, Clinton told those in the audience that Massachusetts' governor has also agreed to his voluntary performance standards and testing program.

The two states join Maryland, Michigan and North Carolina as ones committed to Clinton. Also, schools run by the Defense Department are in the fold.

The performance standards and testing programs were among many topics the president covered during the near 90-minute long forum on Thursday.

West Virginia University President David Hardesty asked the president the difficulties in adopting the new standards. Hardesty said it would require "changing a lot of things" and wondered what roadblocks might be encountered.

"There are only two barriers," said Clinton. "One is political and one is personal."

The personal matter, said Clinton, rests solely with being afraid of how the tests will come out.

"It's scary. It's personal. You're afraid," Clinton said. "What happens if you take it and you don't do very well."

The political one, he said, rests with fears that Goals 2000 will nationalize education.

The bulk of the resistance comes from conservatives. Many feel that it takes educational decisions away from the schools and parents.

"I think people say 'I don't want the federal government telling we what to do,"' said Clinton. "That's not what this is about.

"We have to do this for the whole nation ... not federal government standards, but national standards."

Clinton had words of praise for West Virginia's teachers and administrative personnel for its "aggressiveness in equipping elementary schools with computers" and other areas of progress. But, he said West Virginia went one step further.

"You also are showing that you can raise standards," Clinton said.

Clinton, however, talked about issues other than the national education standards. In fact, he hinted at favoring a longer school year and even high school competency tests.

When asked by a member of the audience about making the year longer, Clinton said the United States, with the exception of Belgium, has the shortest school year of any major industrialized country. He conceded that the notion would be an "unpopular" one.

"On balance, I think it would be better if we had a slightly longer school year," Clinton said.

On the subject of a competency test for high school students, Clinton gave an endorsement. He also emphasized the test wouldn't be a one-shot deal.

"I basically believe it would be a good thing if you had a standards exam _ not one you have to make a certain score on, but one you have to show a certain competence on to move to different levels of education," said Clinton. " ... I think we would have to start it early and give everybody more than one chance to pass."

Clinton, who emphasized the need for technology in the classroom and avenues available on the Internet, said there were potential problems with vulgar material on the information highway. He suggested new screening procedures could help, but he feels the Internet is still necessary.

"Not having the Internet in the classroom would be a big problem," the president said.

Following his meeting, Clinton talked with representatives in the audience for nearly 20 minutes. He followed his departure with a brief visit to RCBHS's auditorium to meet with the rest of the school's student body.


---
Sen. Byrd regretfully
misses historic visit


By JEFF TOQUINTO

A spokesperson from U.S. Senator Robert C. Byrd's office confirmed this morning that the storied senator would be unable to attend President Clinton's town hall meeting at the school named in his honor.

"The senator says that he regrets missing the opportunity to share this memorable day with the people of Clarksburg and President Clinton," the spokesperson said at 9:30 a.m. "The senator is proud that Clarksburg and Robert C. Byrd High School are in the national spotlight today."

Votes were scheduled today in the U.S. Senate on aspects of the balanced budget and an emergency supplemental funding bill that includes flood disaster relief for the Dakotas. The Dakotas were hard hit last month by massive flooding along the Red River.

In Clarksburg, work continued this morning as final details were ironed out for Clinton's visit.

By 9 a.m., state police were getting into position for traffic control along the president's motorcade route. Also, traffic was beginning to congest along Interstate 79 as motorists headed to Meadowbrook Mall, site of shuttle service to transport spectators to the president's speech at Benedum Airport.

For days, Clarksburg has been abuzz with talk of the president's visit _ and it continued today.

People on Main Street in Clarksburg chatted about the visit, while locals at Hardee's restaurant on Buckhannon Pike held their own "unofficial" town meeting. President Clinton was the topic of discussion everywhere.

On Wednesday, White House and local officials nailed down most of their final plans. Late Wednesday night, the White House released the full list of 160 people chosen to attend Clinton's town hall meeting on education at Robert C. Byrd High School. The list included students, parents, residents and community leaders _ not all from Harrison County.

Meanwhile, police officers from Bridgeport, Clarksburg, the Harrison County Sheriff's Department, Fairmont, Salem, Anmoore, Lumberport, Stonewood, the Department of Natural Resources and state police have been involved in security for the president's visit. All are working in conjunction with the Secret Service.

Also, flights at Benedum Airport were coming in as scheduled this morning, though flights were to be delayed upon the president's arrival, said Airport Manager James Griffith.


---
RCB site of
first forum
on Internet


By GAIL MARSH

Thanks to Bell Atlantic and the latest technology, President Bill Clinton's town meeting at Robert C. Byrd High School was linked up to the Internet.

According to Don Molter, area manager of Bell Atlantic, the White House told him "this was the first time that a major presidential address was being broadcast live on the Internet."

"We have a home page that was created by the NASA Classroom of the Future at Wheeling Jesuit University in Wheeling," Molter said. "People that view the home page have the opportunity to select audio and video, or they can select audio only."

The NASA classroom and the transfer center at the Wheeling site captured the satellite broadcast from West Virginia Public Television, digitized the signal and sent the audio and video directly to the Internet, Molter said. The signal lagged behind by about 10 seconds.

The area manager was joined by Ron Aylestock, senior engineer, and two technicians who had all been working for many hours at RCB to prepare for the town meeting. By the time the wiring and phone lines were installed to support the Internet and allow satellite feed for other media, more than 22,000 feet of cable had been laid and more than 200 phone lines were in operation.

The team did their first test run on Tuesday evening and did a double check on Thursday morning. They remained at the school site "in case anything goes wrong," Molter said. By all later reports, the home page was a complete success.

"This is as high-tech as you can get. We did all this on a request from the White House advance team," Molter said.







---
Busy week for PR director


By PAM MARRA

From making town meeting arrangements to ordering pizza for the presidential advance team, Susan Collins has done it all this past week _ and then some.

The public relations director for Harrison County Schools has led a hectic life since learning last week of Clinton's planned visit here. But, says Superintendent Robert Kittle's right-hand woman, it's all in a day's work.

"This is just my job. And, believe me, I'm not doing it alone. There's so many people pulling together to make this happen. I can't say enough about my secretary, Patty Britton. And the superintendent's secretarial staff at the county office has been great. I don't think I should be singled out for anything."

But Regan Burke thinks differently.

The lead advance for the President from the White House says the trip would've been a disaster without Collins.

"Susan knows exactly what needs to be done and how to do it. She called all the people for the town hall meeting, helped get the volunteers, designed the tickets. Everything we've done, she's been involved in."

And it doesn't stop there, Burke adds.

"She's gone way beyond the call of duty. When I asked her where the nearest Methodist Church was last weekend, not only did she tell me, she took me. She's just incredible."

And, Burke adds with a chuckle, "most importantly, she's making sure we get fed. She tells us where all the best restaurants are, and sometimes she even orders the pizza for us."

Collins says she learned of the President's visit in a subtle way. "Last Tuesday, I was at a meeting with Superintendent Kittle. He was just bubbling and I could tell there was something he wanted to tell me. But all he said was, 'Can you please clear your schedule? Next week at this time, your feet are really going to be hurting.' And on Wednesday, it all started."

Collins, who also serves as principal of the Harrison County Magnet Program, says Kittle needed someone to "act in his place. I didn't have to make the major decisions, but he asked me to help him."

How has she handled the pressure and the long hours?

"Well, they say when you're stressed, there's always a good side to it somewhere. I've been so nervous that I haven't been able to eat much so I've lost a few pounds. I kind of like that."

Collins admits her home life has taken a temporary back seat this week.

"I haven't seen much of my son, who's 4, or my husband lately. They've suffered a little, but I've promised to make it up to them."

With all that, would she do it again?

"Well, maybe not tomorrow, but down the road sometime after we've all had some rest, sure! This is something everybody will remember for a lifetime. And I can't tell you how exciting it's all been."

The PR director says she'd love to meet the man whose causing all the commotion. And if given the chance, what would Susan Collins ask the president?

"Right now, I think it would have to be 'Can we have Friday off,"' she laughs.


---
Students have praise for the president
But many questions unanswered


By GAIL MARSH

The students who were permitted to ask President Clinton questions during the town hall meeting were obviously well prepared.

Jennifer Brown, 11, a fifth-grader at Simpson Elementary School, voiced her concern to the president about the loss in funding for the arts. Clinton agreed there had been an alarming decline in support for the arts and he hoped to see this reversed. While shaking hands after the meeting, the president spent a few minutes face-to-face with Jennifer to reiterate his stand.

"What he said to me is that schools often take their cues from the parents and what programs they support," Brown said. "If parents are strong supporters of sports, then in the process of lifting up the athletic department, funding for the arts often drops off."

When asked if she was satisfied with the answer she received, Miss Brown had nothing but praise for Clinton.

"Yes, he gave me a satisfactory answer. I can't begin to explain what this has meant to me, to shake hands and talk with the president of the United States," the very elated fifth-grader said.

"He said he doesn't believe parents support the arts enough and he says that's not really in his control, but he promised to do all that he can to influence that. It's been an honor to talk with him," she said.

Carol McDonald, a fourth-grader from Lost Creek Elementary School, said "his talk was nice but he didn't get to some of the things I wanted to talk about." "He talked about expanding the Head Start program and that's good, but he didn't touch on a plan for safe and drug-free schools," she said. "Although, we kind of already have that in this area," the student said.

Kristen Moore, a sophomore from Bridgeport High School, and a straight-A student, felt Clinton's education platform addressed one of the country's most important issues, the future of our youth.

"It was really interesting. He addressed many important issues looking at education," she said. "Kids are the future and if they don't get proper education, I agree with him that the country will decline."

Olivia Hill of Washington Irving Middle School, also an A student, was one of many students who would have liked to have addressed the president.

"He answered questions well, but I wish students could have asked more questions.

"He spoke about renewing American values in the school. I would have asked him what basis would be used to implement those values. Also, he said dedicated and talented teachers were needed in each classroom. How would the teachers be assessed? What improvements would be made for their teacher's requirements?" she asked.

Many questions remained unasked and unanswered. Deizune Mosby, a senior at Morgantown High School, was impressed with the casual atmosphere of the town meeting, but she left wanting to hear more.

"I thought it was great and I was really impressed with the format. It wasn't formal, it was like having a conversation about important issues with someone you've known for a long time. Also, I thought it would all be kind of snooty, but he was really personable and friendly. If I had gotten to ask a question, I was going to ask what was going to be done to aid students not proficient in English, such as those having trouble with grammar, spelling, etc."


---
Clinton will visit ultra-modern school


By BILL BYRD

U.S. Sen. Robert C. Byrd himself made a basic point about education 18 months ago at the dedication of the modern high school named for himself:

"The answer to addressing our education needs...lies in a concerted national effort to persuade young Americans to take education much more seriously, and in the realization that simply providing more money for education has not been, is not now, and will never be the solution."

But building and equipping a high school that will serve Clarksburg children well into the next century costs money.

And keeping existing schools safe and up-to-date also costs.

Buoyed by Byrd's success in landing the $200 million FBI fingerprint identification center in 1990, county voters approved a September 1991 school construction bond of $37.925 million.

About $22.4 million was spent on RCB High. But using interest earned on the bond _ $4,373,285.52 as of last week _ and $14.5 million in state school building grants, the county School Board has improved every county school.

The Board squeezed $5.2 million from its own budget for the $61.9 million program, the largest in recent memory in north central West Virginia.

At RCB High, President Clinton will see a facility capable of educating 1,200 students.

Current enrollment is 975 with a staff of 65 teachers and administrators.

Designed by Charleston architects Ted A. Shriver and Gregory A. Williamson of Gandee & Partners Inc., the school has more than 200,000 square feet under roof.

Construction took slightly more than three years, beginning with a large compaction project to form a solid base.

The school sprawls across a massive bench, part of its original history as a strip mine.

The campus covers 200 wooded and hilly acres, and includes nature trails and a still-developing pond.

Inside are 36 classrooms, a 675-seat auditorium, a 2,500-seat collegiate-size gymnasium, eight science and chemistry labs, five computer labs and a large auxiliary gym.

Athletic facilities include a 7,500-seat football stadium with an eight-lane running track, a large field house, and baseball and soccer fields. The band has its own practice field and there also are a half-dozen tennis courts.

The school's arts department has a band rehearsal room, a piano room and rehearsal space for vocals, ensembles and individuals.

Plans call for a television studio and a day-care center.

The school's high-tech capability is likely to be remarked on today.

Every classroom is on a computer network and each classroom also has its own television monitors and voice and video links.


---

Home Page   Our Newspapers and Services    Web Page Publishing and Design
Local News    Events Line    West Virginia Sports Summary 
Let Us know what you think of our web site! Give us Feedback
---

E-mail:Webmaster@cpubco.com

Clarksburg Publishing Company, P.O. Box 2000, Clarksburg, WV 26302 USA 
Copyright © Clarksburg Publishing Company 1997