Clinton Visit
From our Newspapers
---

---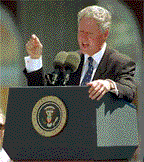 President Bill Clinton
visited Harrison County on May 22 and held a national town meeting on education

May 23, 1997
The following articles are from our special Presidential Issue
- The Clinton Town Meeting -




High school gets back to normal


By JEFF TOQUINTO

The hallways at Robert C. Byrd High School returned to normal Friday, one day after President Clinton conducted a national town hall meeting from the school's gymnasium.

For all intents and purposes, few physical traces of the president's visit remained Friday throughout much of Harrison County, save for a few remaining signs and billboards. Only platforms owned by the school remain in the school's gym.

"Physically, it looks pretty good," said RCBHS Assistant Principal Geary Rollins. "In a couple of days, you'll never know the president was here from that standpoint."

Rollins said staffers and students at the school in Pitcarin Hollow were sporting mixed emotions on Friday.

"Staff wise and student wise, I'd say there was a sense of relief," said Rollins. "But in the same sense, we're coming off of a huge high."

Rollins said students and faculty at the school won't have much time to take their collective breath. Next Friday, they have to get ready for commencement.

"Now we're starting to think along the lines of getting ready for graduation. The platforms in the gym will be put into place starting on Tuesday for that," Rollins said. "Graduation was the furthest thing from our minds. It was second line, but the seniors, I'm sure, were cognizant of it."

Many of the seniors and the rest of the student body were in the auditorium Thursday afternoon watching the telecast of the town hall meeting on closed circuit television and the Internet. Rollins said the students were exemplary in their behavior and attitude during the meeting and during the time leading up the event.

"The students and the staff members in the theatre were superb," said Rollins. "After he made his comments and came down to the crowd and shook hands with everyone he could, it made everything that everyone had gone through for the last week to 10 days worth it.

"It's not everyone that gets to shake hands with a president," he ended.

Meanwhile, at Bridgeport's Benedum Airport, Manager James Griffith was glad to see things getting back in order.

"We're almost there, but it will take a while," Griffith said. "We're starting to look like an airport again."

Griffith said two giant truckloads of trash were taken to Meadowfill Landfill and work began at daybreak. He said the stage was removed on Friday and workers were getting everything in order.

Although Griffith was delighted the president's plane landed at Benedum, he said the entire effort took the help of everyone.

"You look at what KCI Aviation did with just basically shutting themselves down and it's incredible," said Griffith. "Then you have to appreciate Shorts Brothers Bombardier West Virginia Air Center. They arranged their shifts so no one would be there and plenty of parking would be available.

"Both of those organizations went above and beyond the call of duty."


---
Spectators agree:
long wait 'worth it'


By TIM LANGER

They lined the street from Route 50 to Route 98 and waited. All they got for their time was a glimpse of the Clinton profile and a presidential wave through the tinted limousine glass.

But most of the spectators along Buckhannon Pike in Clarksburg said seeing the president was well worth the wait.

"It's the chance of a lifetime," said Rosemary Castellana of Clarksburg, waiting with her daughter, Michele, at the corner of Buckhannon Pike and East Main Street.

Brenda Conley of Clarksburg said it was the chance of a lifetime for both herself and her daughter, Lauren, resting in a baby stroller.

"We'll be able to put in her baby book that she saw the president when she was nine months old," Conley said.

Paul Veltri II, a little older at age 8, will remember the presidential visit himself. He got to shake the president's hand.

Paul was waiting with his grandparents in front of the Mountaineer Mart on Buckhannon Pike when the presidential motorcade stopped and Clinton got out of his limo and started shaking hands.

The St. Mary's second-grader said the president asked him, "Do you like school?" To which he responded, "Yes, I do."

Like many others along the motorcade route, Ralph Cathell had his camcorder with him to capture the event.

"It's never really happened in Clarksburg before," he said. "It's pretty interesting to see a president in your hometown. It's something you can tell your children about."

Cathell had a bit of bad luck, however.

"We wanted to get it with the camcorder," he said, "but the battery's dead. Of all the timing."

Other spectators were less excited.

Thirteen-year-old "Bub" Martin, waiting with his friend Shawn Sears, said they were there "just to have something to do."

Marvin Marsh, waiting near the Buckhannon Pike-East Main Street intersection, said he didn't plan on waiting for the motorcade.

"I was on my way home from work when I got stopped in the traffic," he said. "So I decided to come up and see the president go by."

His car was in a line of cars backed up to the Goff Plaza Bridge on East Main. Police blocked off every intersection on Buckhannon Pike for the motorcade.

Jim Kelley didn't bother getting out of his truck. He had to wait about 20 minutes in the East Main Street traffic jam and said he "planned to take the country way" to his home in Bridgeport because of all the blocked-off roads.

There were some protesters along Buckhannon Pike, with several "Stop Abortion Now" and "Stop Partial-Birth Abortions" signs in the crowd.

But most of the spectators seemed to be Clinton supporters, cheering and applauding when the motorcade appeared.

Ella Grace Spears of Haymond Highway was waiting with a small American flag.

"I'm a Clinton supporter, sure. I'm a very patriotic patriot," she said.

Perhaps Mark Patterson of Clarksburg put it best. He said he was there with his camera "just because it's the president."


---
Clinton is 4th president
106-year-old woman sees


By LIBBY STOUT

Tammy Foley, activities director at Clarksburg Continuous Care Center, was in charge of some special spectators during President Clinton's visit today. Foley took four residents of the center to Benedum Airport to see the president.

Among the four was Blanche Austin of Clarksburg, who is 106 years old. Bill Clinton was the fourth president Austin has seen in her long life. She has also seen "Teddy" Roosevelt, Woodrow Wilson and Harry Truman.

Austin had a catering service in Clarksburg, retiring in 1990 at the tender age of 99.

Accompanying Foley and Austin were Lena Mitchell of Clarksburg; Virginia Husk of Clarksburg, a retired teacher, and Gladys Corder of Salem, also a retired teacher.

Smith Ambulance transported the seniors to Meadowbrook Mall, where they were transferred to a special bus for the handicapped, Foley said.

Since the ladies were in wheelchairs, they were assigned to a specially designated area at the airport with a good view of the presidential party.


---
Thousands
wait hours for glimpse
of president


By TROY GRAHAM

The scene was set on the ground at Benedum Airport.

Limosines, vans, police and Secret Service agents littered the tarmac. An enormous American flag was displayed along with signs from area schools welcoming the president to Clarksburg. The podium with the characteristic presidential emblem waited to broadcast Clinton's words.

In the Benedum terminal, The Galley restaurant was packed with on-lookers, hoping to catch a glimpse of the nation's leader, and behind the closed doors of the KCI Aviation hangar stood thousands of people who would wait over three hours to hear the president speak.

The first plane landed and the national media got off and began setting up. Another plane landed and White House staff members walked across the runway.

Finally, just after noon, it appeared on the horizon. The man all of northcentral West Virginia had been waiting for was about to land in Harrison County.

Television and newspaper media from around the state scrambled to get the first shot of President Clinton as his plane circled the runway and came to rest just behind the Benedum terminal.

A reception line of state dignitaries, led by Governor Underwood and his wife, Hovah, lined up to greet the president.

At last, after a week's worth of anticipation, President Clinton, cane in hand, gingerly descended the stairs from the plane.

The president was followed off the plane by national Education Secretary Richard Riley and former Governor Gaston Caperton, and was greeted by Senate President Earl Ray Tomblin, Speaker of the House of Delegates Bob Kiss, Treasurer John Perdue, Secretary of State Ken Hechler, Bridgeport Mayor Carl Furbee and others.

"It was exciting to meet the president and shake his hand," Furbee said. "He seems to be moving pretty well on his bad leg."

However, just as quickly as the county caught its first glimpse of President Clinton, he was gone, whisked away in an enormous 33-vehicle caravan that carried him to Robert C. Byrd High School.

Was the area's first encounter with the president a letdown? Not really, according to Jason Brown, a Simpson Elementary fourth grader selected to report on the event for the Disney web site.

"When I got picked I thought I'd be covering some boring, old festival," he said. "This is pretty exciting."


---
Former delegate recounts his political past


Editor's note: The following is an account by Clarksburg resident Sam Ellis of his experiences seeing past presidential candidates.

In 1924, I was 11 years old and attending St. Mary's Grade School, living in Norwood, now Stonewood.

My mother and I got on the streetcar to attend the John W. Davis activities of the day, beginning with the parade uptown.

After the parade, we walked to Goff Plaza to listen to John W. Davis' acceptance speech. 'Got caught in the rain, but the day cleared and following the speech, we got back on the streetcar and went home to Norwood (Stonewood).

My second personal experience with an elected president was in 1948. Lucille (Mrs. Ellis) and I and our three sons _ Richard, 8; David, 6, and Sammy, 4 lived on Dale Avenue.

I was one of the four Democrat nominees for the House of Delegates, along with Fred Gaplan, Guy Tetrick and Fred Scanes (sic). I, along with my brother, Frank, owned Ellis Lunch at that time, located on West Pike Street across from Pierpont School.

The entire family went to listen to President Harry Truman in Glen Elk from the "back of the train."

It was in the general election when Truman, running against Tom Dewey of New York was declared the loser on election night, but the next day after the Illinois vote came in and Truman carried the state, he "beat" Tom Dewey.

By the way, I was elected in the general election to the West Virginia House of Delegates.

My third experience was the primary election of 1960 between John Kennedy and Hubert Humphrey. I met Kennedy at 1 a.m. at the Stonewall Jackson Hotel and was on the bus with Kennedy and his supporters when we went to the Hazel-Atlas plant to "campaign."

My friend, Victor "Block" Gabriel was the campaign co- manager with Frank Wiseman in Harrison County.

I became well-acquainted with Bob McDonough of Parkersburg, who was the West Virginia campaign manager for Kennedy and he stopped at the Ellis Restaurant on Bridgeport Hill many times during this campaign.

He stopped with Larry O'Brien, who was national campaign manager for Kennedy, at the restaurant. We had a long meeting and McDonough told me to tell O'Brien what I had mentioned before to him, which was: "Forget the religion. We are all right with that. Talk about the economy of West Virginia."

I enjoyed every minute of my involvement with politics and am still active. Since 1934, I have never missed a vote, to my best recollection, (in a) city, county, state or national election.

I think it's great that President Clinton (came) to Clarksburg.

I am acquainted with Senators Byrd and Rockefeller, Congressmen Mollohan, Wise and Rahall, former Governor Gaston Caperton and all the local Democratic politicians.


---
Army shares goals for
America's young people


President Clinton spoke in Clarksburg Thursday concerning his Call to Action for American Education. His efforts to enhance education in America are not solely confined to the civilian world. In his capacity as Commander in Chief of our military forces, Clinton is helping many young people advance their educations.

This spring, the Army increased educational benefits in three of its premier programs _ the Army College Fund, the Montgomery G.I. Bill and the College Loan Repayment Program.

"These programs were great opportunities for young people interested in higher education even before the recent increases," said Lieutenant Colonel Thomas C. McCarthy, commander of the Army's Pittsburgh Recruiting Battalion which includes recruiting stations in Bridgeport, and several other northern West Virginia cities. "And with college expenses continually escalating, we're glad to be able to keep with rising costs."

By qualifying for the Army College Fund, young people can earn up to $40,000 for college if they enlist for four years in certain career fields. The 25 percent increase is also reflected in maximum increases for two-year and three-year enlistments.

The basic Montgomery G.I. Bill has been increased as well. For four-year enlistments, a soldier can now earn $15,403, an increase of about 11 percent. Equivalent increases were adopted for shorter terms of enlistment.

The College Loan Repayment Program has been increased to a maximum of $65,000 for selected jobs from the previous maximum of $55,000. For each year of service, the program repays one third of the outstanding loan balance or $1,500 (which ever is higher) for certain federally insured college loans.


---
Reporter's Notebook: Chaotic day
during Clinton visit


By BILL BYRD

Somewhere on the grounds of Benedum Airport today is an exposed roll of film and a reporter's notebook. They belonged to me _ at least the notebook did. The film was one of two rolls taken by staff photographer Bob Shaw of President Clinton's arrival yesterday.

The lost roll contained images, as shooters say, taken before Air Force One landed. Thankfully, the other roll Shaw gave me to rush back to the newspaper so we could get an arrival photo in the late editions of the Telegram had the pictures we wanted.

I probably put the film and notebook on top of my car while fumbling with my car keys.

They probably blew off as I drove away.

The rest of my day was better. I was at the airport, observing nearly 4,000 fellow West Virginians wait patiently for more than three hours for the president to return from his televised education forum at Robert C. Byrd High.

The airport departure lacked a certain zing.

It lacked U.S. Sens. Robert C. Byrd, Jay Rockefeller and U.S. Rep. Alan B. Mollohan. You could tell by the way some in the crowd lit up by waving their arms over their heads when they spotted former Gov. Gaston Caperton before the president's speech.

In a setting like this, they would have shone. They would have fired up the crowd, stoking that exchange of energy between speaker and audience.

By the time Clinton took the podium about an hour behind schedule, the bright sun and the shoulder-to-shoulder, standing- room only conditions on the tarmac in front of the KCI Aviation hangar had taken the edge off of the crowd.

Here is how I spent my day on the day the president came to town:

_ Shortly after 9 a.m. Sen. Byrd's office calls to say he won't make it.

_ 10 a.m. To the airport. No problem getting past DOH and state police roadblocks. Wonder what it will be like later when I'm trying to rush Bob's film back to the paper.

_ 10:30 a.m. The RCB High Band is belting out some marches, the KCI hangar is immaculate and puffy white clouds are scudding overhead.

_ 11:05 a.m. Gov. Cecil Underwood steps to the podium mike for a sound check.

_ 11:14 a.m. The band and the Lincoln High Show Choir is moved into the hangar and the hangar doors are closed. Meanwhile, the VIPs in a large tent next to the hangar are cranking up their party music.

_ 11:15 a.m. A Kiwi Airlines 727 charter carrying the national press corps makes a hard bounce on a very fast landing. Later, a White House Communications staffer say those on board felt the plane soar about 10 feet into the air.

_ 11:45 a.m. A small White House Gulfstream jet lands. A number of suits exit.

_ 11:52 a.m. A tiny State Police helicopter lifts off to make an aerial search of the airport. The press is escortedto a better vantage point to watch Air Force One land. We learn the president will not be making any arrival remarks.

_ 12:03 p.m. Several miles north of the main runway and several thousand feet above the horizon, the president's DC-9 is spotted.

_ 12:06 p.m. Air Force One's landing is smooth but its descent is very steep.

_ 12:15 p.m. State Police helicopter lifts off to provide air cover for motorcade. President still shaking hands with about 35 dignitaries.

_ 12:24 p.m. Motorcade moves out to RCB High. It takes new access road to U.S. Rt. 50 behind the new Army Reserve and National Guard pilot training center.

_ 12:30 p.m. I lose roll of film.

_ 2 p.m. Return to airport. Crowd is now stuffed, yes, like sardines, on the tarmac. Grade- schooler Clayton Barker, 11, of Troy, Gilmer County feels faint.

Paramedics with the Harrison County Emergency Squad and the Belington Emergency Squad give him oxygen. He smiles. I move on.

_ 2:30 p.m. Sarah Peterson, 4, of Bridgeport is ready for her nap. She lolls on a pillow placed on the asphalt next to her sister, Rebekah, 7. Their mother is Brenda. She thought it would be great to bring them out. Kory Humphreys, 6, is getting restless. His mother is Sharon, of Clarksburg. Mrs. Peterson and Mrs. Humphreys are having second thoughts.

_ 2:55 p.m. The tentative time for the president's departure speech.

_ 3:38 p.m. Mayor Carl E. Furbee Jr. of Bridgeport asks crowd's indulgence.

_ 3:49 p.m. State Police helicopter returns. Motorcade must be on the way. Later we learn Clinton impulsively stopped it twice _ on Buckhannon Avenue opposite a convenience store and at All Saints Catholic Church in Bridgeport _ to shake hands.

_ 3:51 p.m. Presidential limousine stops behind podium. Cheers and signs of welcome go up, as do children on fathers' shoulders. The White House communications staffer running p.a. system turns up U 2's "Where the streets have no name."

_ 4:07 p.m. to 4:12 p.m. After intros by Mayor Furbee and Clarksburg Mayor Robert T. 'Tom' Flynn and the governor, Clinton gives standard stump speech.

_ 4:13 p.m. to 4:38 p.m. President repeatedly walks back and forth along metal crowd barriers to press the flesh. It's a genuine gesture, given the demands on his time.

_ 4:45 p.m. Air Force One lifts off.

_ 5 p.m. Mayor Flynn spots me and asks for a lift back to RCB High and his car. We chat. "This president likes people," he says. Agreed.

_ 5:30 p.m. Back in the newsroom.

_ 9:35 p.m. I carried a camera too yesterday. My film? Well, it turns out I had a light leak and the film is fogged. Bob tells me. He looks regretful. I believe him. Column is done, day is done, I'm done. Out of here.


---
Crowd braves hot sun for
chance to meet President Clinton


By TROY GRAHAM

Immediately after President Clinton's motorcade left Benedum Airport for Robert C. Byrd High School, the KCI Aviation hangar doors opened and a flood of people began jockeying for the best view of the podium where the president would speak.

The people would wait more than three hours for Clinton to return to the airport. Though the crowd got thicker and thicker, and the sun got hotter and hotter, the people remained patient.

For most it was a once-in-a- lifetime opportunity to see the nation's leader, worth waiting through anything.

For Big Elm Elementary School teacher Janet Dotson, it was more like fate that brought her and her mother, Luvon Greaver, to see the president.

"She had a dream about it (meeting the president) last night and then I surprised her with two tickets today," Dotson said.

Nel Elder, from Grafton, attended mainly for her three grandchildren, ages seven, five and 10-months-old. Her seven- year-old granddaughter, a Hepzibah Elementary first grader, was particularly excited, she said.

"I don't necessarily like Clinton," Elder added while feeding her baby grandson. "I came here because he's the president."

Fairmont Mayor Nick Fantasia, who said he saw then-Gov. Clinton in 1988 at a Jefferson- Jackson dinner, was excited by the national exposure of the president's visit.

"Two hundred million people will get at least a small glimpse of north central West Virginia and they will see the technology corridor is alive and well," he said.

Senator Mike Ross, D-Randolph, also lauded the exposure.

"It's a great event for the state of West Virginia. It's great for the economy," he said.

Ross expects the impact of the visit to fan out into all of Harrison's surrounding counties.

Some of those attending the Benedum rally were old hats when it came to presidents.

Fairmont resident Frank Pulice remembers attending John Kennedy's inauguration in 1961.

"About 40 of us caught the train in Grafton and went as a group," he said.

A few years later, Pulice and three others from Fairmont went to Kennedy's funeral, he said.

H. Laban White, a long time Clarksburg resident, and former Speaker of the House of Delegates from Harrison County, remembers going to the White House to meet Calvin Coolidge. His aunt, who was a member of the Daughters of the American Revolution, was invited by the first lady, who was secretary of the DAR.

"I've seen every president since Coolidge," he said.

However, not everyone was impressed by the presidential visit.

Bridgeport High School ninth grader Brian Meredith and his friends spent part of the afternoon playing cards on the hangar floor.

Meredith said they'd check out the president "eventually" because "the game won't last that long."


---
---



Clarksburg Publishing Company, P.O. Box 2000, Clarksburg, WV 26302 USA
Copyright © Clarksburg Publishing Company 1997