Scenic Harrison County boasts a wealth of historic, ethnic and entertaining sites and activities.

The birthplace of General Thomas "Stonewall" Jackson is also home to the Federal Bureau of Investigation's Criminal Justice Information facility.

Several annual ethnic festivities are held in the area, including the Italian Heritage Festival, Black Heritage Festival and the Glen Elk Ethnic Festival.

The Italian Heritage Festival takes place on Labor Day weekend and offers a variety of food, entertainment and special events.

The Black Heritage Festival is held the nearest Saturday and Sunday to Emancipation Day. Ethnic art is displayed and on sale and foods and the culture of all ethnic groups are celebrated.

Bridgeport is located at US 50 and I-79. This area contains several locations offering antiques, glass and collectibles.

The Benedum Festival is held here each July to honor Bridgeport's benefactor, Michael Late Benedum. He is responsible for providing the area with an airport, cemetery and civic center.

Lost Creek residents host the annual Country Fall Festival in September. Free entertainment is available. Lost Creek is located off Exit 110 of Interstate 79.

The largest crafts co-operative in the state is found in Quiet Dell, which also can be reached at I-79, Exit 115. Special events are hosted at the co-op throughout the year, in addition to regular business hours.

In October, Salem is the site of the Salem Apple Butter Festival. A parade, music and entertainment are offered, and of course, apple butter. Fort New Salem celebrates the Harvest Festival the same weekend. Apple butter making, music and storytelling are offered. Summer and Christmas events also take place at the Fort.

The Jennings Randolph House here was built in 1900 for former U.S. Senator Jennings Randolph's parents. It was purchased by Salem-Teikyo University in 1985 and is now the Jennings Randolph Center for Public Service. The center can be viewed by appointment only.

The Shinn house in Shinnston is the log cabin of one of the first settlers of the town. It is situated off Route 19, but is not open to the public.

In mid-August, West Milford offers the Ol' Mill Festival. A parade and a variety of events are funded by community dinners and bake sales.

Click on map to enlarge view
Bridgeport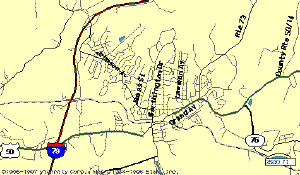 Clarksburg
Lost Creek
Maps from MapBlast